As part of developing Specialkidz International, Ken Carter & Helen Lansdown made a very important visit to the SchoolHouse for Special Needs children in Barbados. Their introduction to this school came from Peter Boos who is now the Honorary President of Specialkidz & Specialkidz International and Natasha Vlahakis who is a successful Content & Web Development Manager (www.businessbarbados.com) and whose mother Yasmin Vlahakis is the Principal.
On the day of the visit, the school had organised an Open House for officials from the Ministry of Education, parents, teachers, social care workers, friends, potential benefactors and many interesting visitors to see what the children with special needs were being taught both in the classroom and through outside activities.
The SchoolHouse has a most wonderful learning atmosphere with the children very engaging indeed & highly creative. It was such a pleasure to visit this very beautiful and brightly coloured Bajan school and to meet so many interesting people associated with it.
Yasmin is certainly a very inspiring Principal and attended the Chiltern Nursery College in Caversham/Reading and Emily Coly was a BA (Hons) TAEDS (Theatre Arts Education & Deaf Studies) University of Reading student three years ago and now teaches, in a highly creative way, art, drama and music.
SchoolHouse for Special NeedsIt gave Ken Carter a great deal of pleasure to meet Andrea (Andy) Peirce as he used to know her husband Tommy so well. He was one of Ken's star cricketers when he taught at the Oratory School which is not far from Caversham(Reading, UK). Ken is now exploring with Peter, Yasmin, Natasha & Emily how Specialkidz International, which has been set up as part of Specialkidz, could work with them on some challenging partnership projects covering online learning, information technology, creative arts, sports ,health education, literacy, sign language, mental health issues ,abuse and diversity as he is sure that some funding could be forthcoming from Comic/Sports Relief/International Big Lottery/BBC Children in Need & other UK funders which support special needs education worldwide. It was such a pleasure to meet Andrea Pierce, who is the widow of Tommy Pierce, on Ken Carter and Helen Lansdown's visit to the Open Day.Andrea is a good friend of Yasmin Vlahakis who is the Principal of Schoolhouse.Ken talked about Tommy's great cricket contribution to the Oratory School and to Barbados and the West Indies. His century at Lords in 1963 before lunch between the Oratory and Beaumont has been celebrated many times over by Old Oratorians and especially by Peter Boos and other team mates.Andrea wished all his cricketing friends her very best wishes and good health.
---
SchoolHouse For Special Needs in Barbados
Reservoir Court, Brittons Hill, St Michael, Barbados. BB14 027
Website: http://www.barbadosyp.com/Barbados/The-Schoolhouse-For-Special-Needs/profile
Telephone: 246-622-1599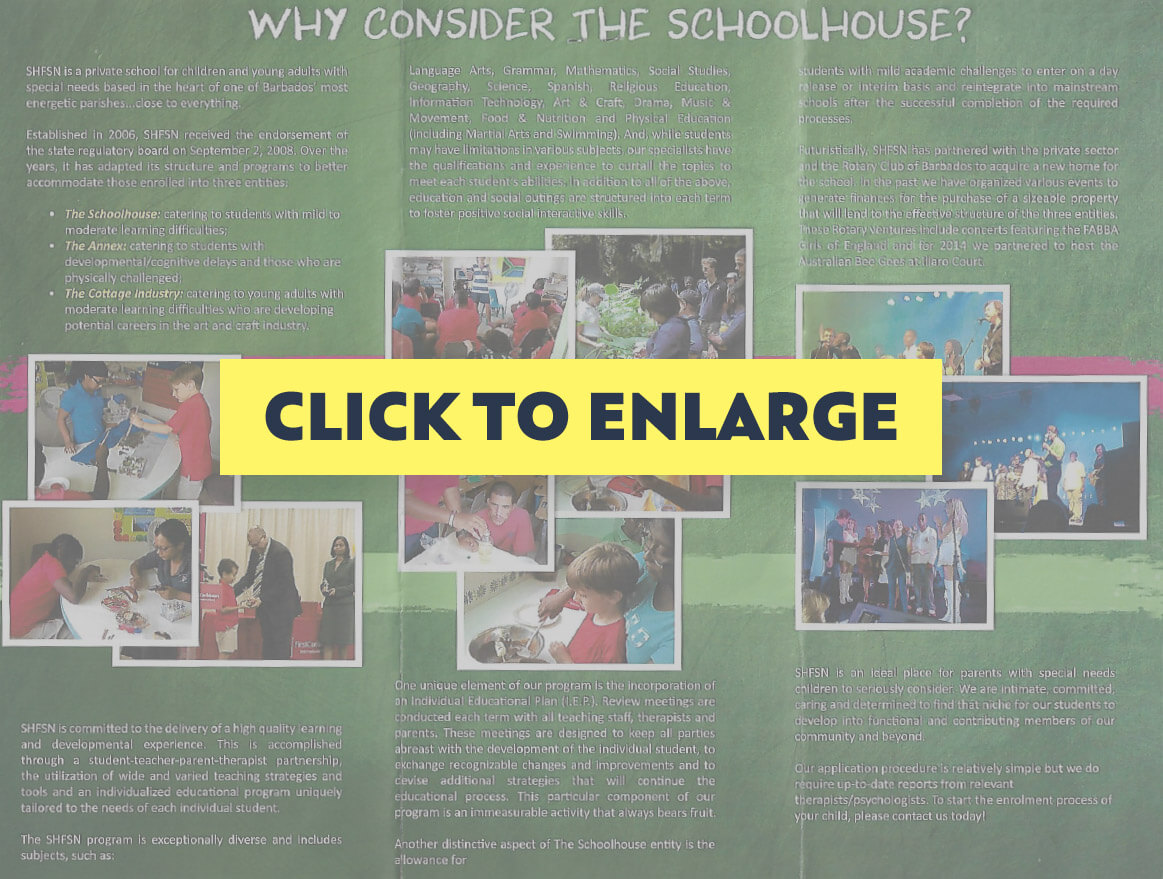 Please click on any of the photographs below to enlarge them and to see more information about them.